You might be surprised to see something called the Loop Station on a list about delay pedals, but these two effects are similar in nature and you'll often see them linked together.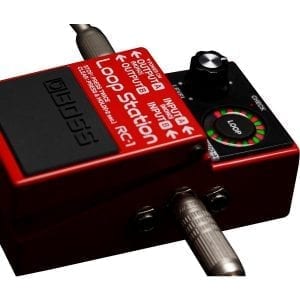 The Boss RC-1 wasn't our favorite option for delay on the list, but it's a good one to consider if you like experimenting with long delays and other pedals just aren't cutting it.
The Boss RC-1 is designed with guitarists and bassists in mind. It has a clean, vibrant interface that's easy to read at a glance, and you can control all the functions easily using only the built-in pedal.
This intuitive design was probably our favorite thing about the pedal overall—it doesn't take long to get used to it and it's very natural once you do.
If you're looking for a more traditional delay effect…
This might not be the pedal for you.
The long recording memory and simple controls do give it significant versatility, however, and its loop functions are definitely impressive if that's something you're interested in, as well.
Features:
Dimensions: 2.9" X 5.1" X 2.4"
Controls: Level
Loop Recording: up to 12 minutes
Power: 9V alkaline battery or AC adapter (not included)
Up to 12 minutes of recording time