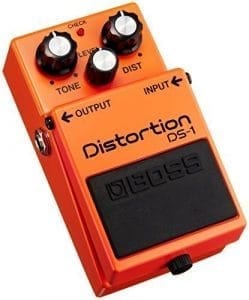 The DS-1 from Boss is a classic, a favorite of guitarists since the '70s, and with good reason. Just give it a quick listen and you'll hear how rich and thick the distortion is. Maybe most impressive is how widely the effect can vary when you change the settings. That's part of why it's as popular today as it was with grunge players of the '90s and hard rockers from the '80s.
The Boss DS-1 is able to perform well in any style because it's easy to customize. Adjusting the tone and distortion knobs takes you through a huge range of effect colors, from subtle grit to massive crunch. It's the scooped midrange that's really the signature of the Boss DS-1 tone, and that comes through no matter how you tweak it.
And here's the kicker:
The Boss DS-1 is really affordable. It's actually pretty incredible that they've kept the price so low on this little powerhouse. Every detail makes it feel like a much more expensive pedal. It's sturdy, with a metal housing that won't crack or fail no matter how hard you stomp on it.
This is one of those pedals that pretty much every guitarist will want to try at some point, because of its storied history if nothing else. The only caveat is that it's better for tube amps than it is for solid state amps. Depending on your equipment, it can lose some of the low end, and some players find it sounds a bit thin. Still, considering the price, it's an easy buy that will quickly become a staple on most guitarists' pedal boards.
Features:
Controls: Tone, Distortion, Level
Power: 9V battery or AC adapter (not included, get one here)
Connections: ¼" input and output (get cables)