The GLL 55 comes with some very unique features that are not readily available in the market. The product is a great tool for professionals and is suitable for most types of residential or commercial uses.
The GLL 55 features the groundbreaking VisiMax technology that projects a super bright light increasing the visibility of the laser. It constantly monitors the laser's temperature so the diodes are always driven to maximum line brightness while ensuring they don't overheat. It is a class 2a laser product with a power output of less than 1mW.
This professional self-leveling cross-line laser includes several modes ideal for a variety of situations. It has vertical, horizontal and cross-line modes that can project two lines independently or together. It adjusts to any angle according to your need.
However…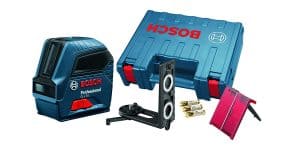 Adjusting can be a bit difficult, but once you get the hang of it, the self-leveling technology takes care of the rest.
Bosch GLL 55 also comes with a unique magnetic L mount with strong magnets to attach to steel studs of the laser level. The mount has a free-standing mode with retractable feet; this design makes the unit easy to setup and use. For additional height, however, you can buy an external tripod.
The smart pendulum system of the unit allows it to self-adjust itself and conveniently inform the user if it's out-of-level (the laser starts to blink if it's out-of-level). You can also simply lock your laser level if you have to transport it, and its hard case ensures the product's safety.
Unfortunately, there's a learning curve.
The GLL 55 hasn't received much love from customers as many feel that the product's life is too short and the VisiMax technology doesn't deliver what it promises. It is also increasingly difficult to adjust the product while setting it up. However, once you get the hang of the product, it increases your productivity and improves your results!
Features:
VisiMax technology delivers maximum line visibility in standard working conditions
Easy-to-use laser setup modes projects vertical, horizontal and cross lines
Smart pendulum system allows tool to self-level and indicate out-of-level condition
Secure laser transport after switching off, pendulum is locked
Magnetic L mount features strong magnets to attach to steel
Class 2a laser product, <1mW power output