The compact and efficient GLL 2 is a self-leveling laser level that projects two lines independently or together for a wide array of levels. You can change from horizontal mode to vertical mode to the cross-line mode by simply pressing the button; it's that easy!
Let's not forget the signature Bosch feature…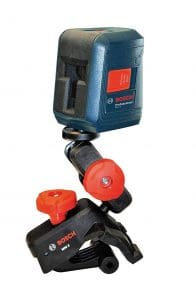 The GLL 2 features a smart pendulum leveling system unique to Bosch that not only self-levels the unit but also senses and informs the user if it's not level with the surface. It also comes with a switch slider option that you can simply move to lock the laser level, which comes in handy when moving the unit from one place to another.
The product weighs in at 1.65 pounds and comes with physical dimensions of 3.2 x 2.5 x 2.6 inches. It mounts easily on an adjustable tripod and is super easy to set up. By buying the GLL 2 Cross-Line Laser, you get an additional MM 2 flexible mounting clamp giving professionals the versatility needed for multiple leveling and alignment applications. The product also comes with extra 2 AA batteries so you can start using the product the moment after you unbox it.
The best part:
The unit gives results that are accurate to 0.1875 of an inch! Low on price and high on quality!
Customers love it.
The GLL 2 has received a lot of love from customers as it provides more functionality and effectiveness compared to other high-end Bosch products. The product is a steal at its quoted price, and will remarkably increase the productivity and quality of your work.
Features:
Horizontal and vertical line modes
One button operation makes it easy select between modes or turn the tool on/off
Flexible mounting device conveniently clamps to multiple surfaces
Smart pendulum leveling system
Switch slider to lock for transport
Class 2 laser product, ≤1mW power output