Bosch tools are easy to recognize by their color scheme, and once you use their power tools, it's unlikely you'll forget the brand. The Bosch GCM12SD is our top choice, and while it isn't quite as fancy as others, the design provides you with the smoothest cuts around.
The GCM12SD is a 12-inch dual-bevel miter saw with a unique sliding system. Their patented Axial-glide setup uses jointed arms with a sealed bearing system. This allows your blade to glide through wood like a knife through butter. As it's sealed, sawdust and other types of debris are shut out so it will run just as smoothly during the first month of operation as it will in year five.
What if I need some tension?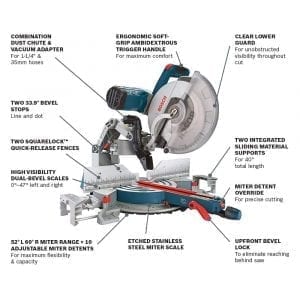 That's not a problem as the GCM12SD has a "glide dampening" system which allows you to dial up the resistance to suit the project at hand. The bevel lock is at the front so you'll never have to reach around and it's comfortable to use if you've got an extended job. It has a soft grip ambidextrous trigger with a safety switch you need to depress during operation – a perk for some and a hindrance for others.
This saw is heavy at around 65 pounds but can withstand life on the job site or your garage. It's built like a tank but doesn't take up much space thanks to the design and the joint system. You won't need much clearance in the back for this one. Overall, it's a well thought out design and one of the simpler compound miters saws to use.
It has a 15 amp motor at 3HP which is capable of hitting 3,800 RPMs. It's a standard 120 volt saw, and as there's no laser, you won't need any batteries or extras. You also may not need extensions depending on the size of your job. The Bosch GCM12SD has two material supports that slide out from beneath the frame. It adds 40-inches of length, and the dust chute is compatible with 1-1/4" hoses and 35mm hoses.
The maximum crown and cutting capacity on this saw is 6.5-inches at a 45-degree spring, and while it's a 12-incher, it has an expanded 14-inch range horizontally. The miter angle range is 52-degrees to the left and 60-degrees to the right. It also has an electric brake, a clear lower guard, and detent override – all standard, but essential features on top quality saws.
The Bosch GCM12SD comes with a 12-inch 60 tooth blade, user manual, a dust bag, vacuum adapter, and a vertical work clamp. It's backed by a 1-year warranty from the manufacturer and is sold as a bare tool or with a very nice rolling stand which allows you to handle 16-feet of material and has 8-inch wheels. There's also a laser add-on available if you want some assistance with those quick cuts.
Features
15 amp 3,800 RPM motor
Slide out material supports
Dual bevel
Electric brake