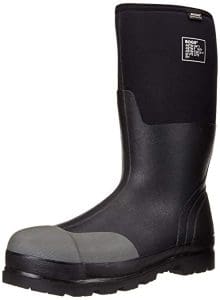 If you're on the lookout for sturdy, waterproof work boots, you should know that Bogs is among the best brands out there. Although it's one of the few rubber models on this list, their Rain Boots are getting praise from working men from all over the world. Let's see what they have to offer.
Made from top-quality neoprene rubber, these boots make sure your feet never get in contact with water, no matter where your work takes you. Their rubber outsoles boast a design that reduces the danger of losing your footing to a minimum, so you don't have to worry about potential accidents. Since they have steel toe reinforcements, you can be sure your feet won't get hurt even if something heavy falls down on them.
But it gets better:
The upper part of these boots is made from stretchable textile, while on the back you'll find a pull tab. Thanks to all this, you'll be able to easily pull them on and kick them off wherever you find yourself. We've found that the stretchable bootie also adds to your comfort, since it allows the material to adjust to the shape of your foot. Also, the AEGIS antimicrobial lining is pretty good at fighting off unwanted odors.
What's the bottom line?
These are top-notch work boots, but they're not perfect. There seems to be an issue with the sizing chart, since there were complaints about this model being too small or too big. Also, we've found that the boots aren't warm enough to fight off cold during harsher winters, so keep that in mind when making your final decisions.
Features
Neoprene rubber and stretchable textile
AEGIS antimicrobial lining
Rubber outsoles
Steel toe reinforcements
Pull tab