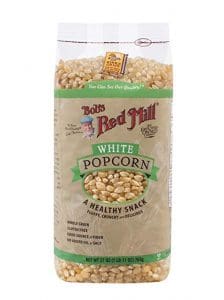 You may not be familiar with Bob's Red Mill, but they've been cranking out wholesome food since the late 70s. This employee-owned company takes their seed seriously, so you'll only get top quality kernels from the Red Mill Whole Grain mix.
This is another super healthy kernel made from whole grains which were selected from crops around the globe. The white corn is certified Kosher and will undoubtedly make vegans or folks with food allergies happy. There are 27g of whole grains per serving in this gluten-free corn so it's delicious and an outstanding source of fiber as well. It's also available in yellow if you want something a little more flavorful out of the bag.
Bob's makes this popcorn in white or yellow, so you'll have to add your own toppings if you want to liven things up. You'll get four bags per pack, and each 27-ounce bag has around 28 servings. That's enough popcorn to keep serious snackers busy although you'll want to pick up some oil unless you plan to use the paper bag method.
Features
Available in white or yellow
Vegan
3g of protein per serving