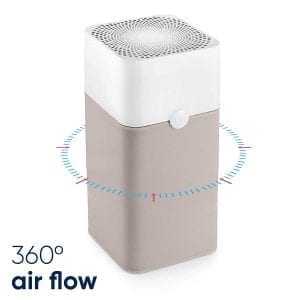 The Blue Pure from Blueair is, in our opinion, the most stylish air purifier you can buy. The two-color retro-inspired design will add a nice mod-inspired décor touch to any room. While it is a fairly large air purifier—about the size of a typical end table—it's nice enough to look at that you probably won't mind the size. It's unobtrusive otherwise, too, with a fairly quiet operation and low energy usage—only as much as a 60-watt bulb, even on its highest setting.
The only down-side of the stylish look of this air purifier is the corresponding hike in price. You can get a similar performance from air purifiers that cost half as much. The Blue Pure does give you a slightly larger coverage area than most cheaper options, but you're definitely paying for the aesthetic appeal more than you are for the expanded function.
That's not to say this isn't a good air purifier. It uses a similar carbon filtration to other options on the list, and is very effective at eliminating smoke odors and removing microscopic particles from the air you breathe. It's also a very efficient model, both in terms of operating speed and energy use. It's Energy Star rated and 60% more efficient than most air purifiers, using about as much energy as a light bulb even on its highest setting.
What it ultimately comes down to is how much you care about the look of your air purifier. If you want it to be something you're proud to have on display, the Pure Blue is a good choice. If looks don't matter, you can save yourself a couple hundred bucks and get similar performance from another brand.
Features:
Color options: Blue, orange, gray, pink, black
Coverage area: 600 square feet
Filters: Re-usable pre-filter, activated carbon filter
Filter life: 6 months
Dimensions: 13" X 13" X 28"
Weight: 18 pounds
5-Year Limited Warranty