We've shown you small grills and larger ones built to entertain a crowd. Now we're going to take a look at something unique from the folks at Blackstone. This grill is a hybrid of sorts and an affordable option with a large open grilling area.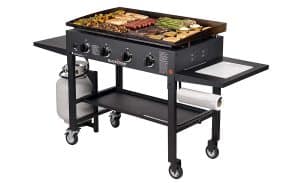 At first glance, you'll quickly notice this grill is not like the rest. For starters, there is no hood although you can cook just as well without one unless you're trying to do a 3-inch steak. Smoking is obviously out, and the large, but the flat cooking surface will take some getting used to as well if you've never used one.
Is it a grill or griddle?
It's actually both if you're willing to buy one simple accessory which is why this grill made the cut. The company sells a 36-inch grill top add-on with a foldable windscreen and drip tray. It's 680 square inches and covered with a non-stick coating. It's an affordable option which turns this grill into a 2-in-1 that's still cheaper than other four burner grills.
If you decide to roll with the flat cooking surface, you'll be impressed by what it can do. From steak and eggs to hash browns, hamburgers or even pancakes, you can cook almost anything on its surface. You'll have plenty of room as well considering it's 720 square inches of cold rolled steel. As for the burners, the 46-inch model has four although there are two variants to choose from.
There is a 28-inch model of this grill with two burners, but the real value is with the four burner setup. It's capable of 60,000 BTU's at full power, and while both of these models have side shelves, one has a "new" shelf complete with a cutting board and towel holder. This the only real difference between the two larger models and we're pleased to say all three have the same build quality and cook like champs…
Blackstone used a powder coated steel frame for their griddle station, so it will hold up well outdoors. It's around 130 pounds but has four sturdy locking caster wheels. You can also fold the legs up if you want to hit the road with your griddle. If you need additional accessories, they have you covered as well.
While we went with the 36-inch four-burner grill, there are bundles available including one with a cover. The Pro, Deluxe and Starter bundles add extra value to this set, but only if you don't have the included accessories. In some cases, you'll be better of purchasing those separately due to the quality although you'll definitely need a cover for this one regardless. All versions of this grill come with the standard hookups, a user manual, and a 1-year warranty.
Features
720 square inch cooking area
Rear grease management system
Electronic igniter
Powder-coated steel frame