If you're looking for a lightweight handheld vacuum for your stairs, this cordless model from Black & Decker is a great choice. It has a lithium-ion battery and a smart charge system that keeps it from overcharging. As a result, you get a vacuum cleaner that doesn't lose battery life over time.
We loved the rotating nozzle on this vacuum cleaner. In our testing, we found it enables quick and easy cleanup on a variety of surfaces. It also comes with various attachments, such as the crevice tool for hard-to-reach areas—an accessory we thought was extremely handy.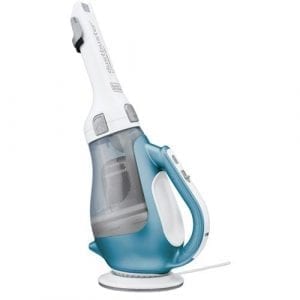 Black & Decker are famous for their great vacuum cleaners, and this one is no exception. The cyclonic suction action was extremely reliable at making sure the dirt stayed inside the vacuum while we were using it.
And to make sure cleaning is even simpler, this vacuum's see-through dirt cup made it very easy to be emptied. We washed and reused the filter that comes with this model and it held up well.
However, this vacuum cleaner has a charging time of four to six hours. For us, we found it to only run for around 15 minutes. That might be suitable only smaller messes, but if you have large areas to clean this device might be the best option.
Another thing we noted while using this vacuum is that it's quite loud, and its opening is narrower than that of other models.
Features:
Handheld model
Weighs 2.6 pounds
Lithium-ion battery
Smart Charge Technology
Cyclonic suction action
Rotating nozzle
Comes with charging base and various attachments
2-year warranty