This Black & Decker Pivot vacuum is one of the best ones we tried. Our favorite feature of this Black + Decker model is that it's handheld and cordless. Additionally, we found the lithium-ion battery makes it less prone to losing power over time.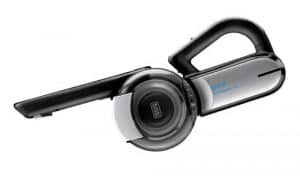 The high-quality motor made for strong suction and, thanks to cyclonic suction action, there was no dirt spilling out or clogging the filter.
One of the best features of the Pivot vacuum is the pivoting nozzle, which is great for reaching inconvenient areas. It also comes with built-in crevice tool and brush. They were easy to pull out when we needed them and easy to move them out of the way when we didn't.
As an added bonus, this vacuum has a wide mouth. It was excellent for cleaning up large debris.
Another upside to owning this model is the dustbin, which can be opened and emptied via a door, or completely removed and washed.
There's one issue, though. Namely, a lot of users report that the dustbin doors are prone to breaking. Another issue is the runtime, which is a bit short at 10 to 15 minutes when fully charged.
Features:
Handheld model
Lithium-ion battery
Pivoting nozzle
High-performance motor
Wide Mouth
Cyclonic suction action
3-stage filtration system
Various built-in tools
Includes charging stand and pre-filter