If you want a great vacuum for your stairs, here's another good choice. Bissell's handheld model features a superior lithium-ion battery and fade-free power. It's lightweight and cordless. When we were putting it to the test, it made quick cleanups a breeze. The extension hose it comes with also made for easier access to narrow or high spots.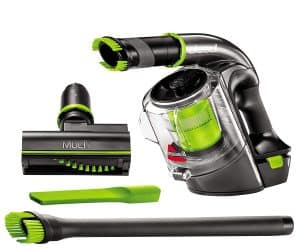 The motorized brush that comes with this vacuum cleaner comes in handy for pet hair. It also has a dustbin which was easily removed and cleaned. But one of the best features of this model is its ergonomic grip. It allows you to hold the device tightly without straining your arms. Since we tested out a lot of vacuums, we were especially grateful for this. If you use your vacuum frequently, we think you'd also love it.
This model comes with multiple additional tools, such as a brush and a crevice tool. Unfortunately, the tools aren't built in but are kept in a cardboard box, which is not a perfect storage solution.
The bigger downside to this model is that, like many cordless vacuums, it has a run time of only about 15 minutes. It has light indicators, so you can see how full the battery is, but there is no charging dock. You can charge it using a cable, but this is not as convenient for quick use.
Features:
Handheld model
Lithium-ion battery
Built-in 14-inch extension hose
Motorized brush roll
Includes multiple additional tools