Birkenstock is a company famous worldwide for their comfortable, high-quality shoes. And they've managed to meet expectations again with these Unisex London Slip-On shoes. Whether you need them for work or leisure, being on your feet all day becomes easy when you're wearing something as comfortable as these.
The great thing about these shoes is they can last for over a decade. The material used in making them is genuine leather, so it's durable by nature. Also, these shoes are resoleable, so if the soles do get thin, you can simply replace them. The footbed is also replaceable, and we've found most users replace it once every two years with something like the Birkenstock Original Replacement Footbed.
Now get this: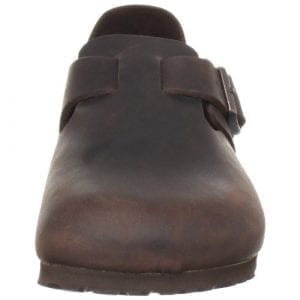 Featuring a durable textured rubber sole, these shoes provide sure footing and comfort throughout the day. They are deep cut, so the soles are slip resistant. Also, the EVA outsole makes sure you have all the support you need while at the same time absorbing shock. If you have problems with your feet or knees, these shoes are a godsend.
Another amazing feature of these Unisex London Slip-On shoes is the footbed. Made from cork, the footbed is 100 percent renewable and sustainable. Also, it's specially designed to provide comfort by molding itself to the shape of your foot. It promotes foot health and keeps the pain away.
However,
Since there's no cushioning, for people who have sensitive feet, we've found that inserting softer insoles helps. Our research has found Airplus Memory Foam Insoles are a great choice.
The adjustable leather strap on the Unisex London Slip-On shoes will make sure they fit perfectly to your feet, and the raised toe bar is designed to encourage the natural gripping motion of your foot, making it stronger and healthier, while promoting circulation at the same time.
The deep heel cut inside the shoe is there to make sure your weight is evenly distributed across your foot. However, the raised heel makes the shoes harder to put on, which is one of the few downsides that we've found while researching the Unisex London Slip-On shoes.
But there's more:
Another downside is that, since these shoes are made from genuine leather, it takes some time for users to break them in. Expect the first few times wearing them to be a bit uncomfortable.
Features:
Leather
Matte leather upper
Adjustable buckle
Cutouts at the vamp
Suede-lined footbed
Absorbent cork midsole
Rubber outsole
Arch support
Comes in Narrow and Medium width