What's great about this stovetop is that it's entirely made of 18/10 stainless steel.
This is a great feature – considering that so many stovetops claim to be entirely stainless steel, but are not.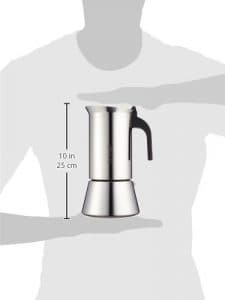 Many of them are actually aluminum on the inside (for example, the filter). With the Bialetti Elegance Venus Induction 10 Cup Stainless Steel Espresso Maker that's not the case.
Thus, if you want to stay off aluminum – this stovetop is the right product for you. The inside components are also stainless steel and the quality of metal is quite good.
That's probably its strongest point.
In addition to this, it brews coffee very fast – in a matter of minutes – it basically depends on the amount of water used.
The design is also very good – it's a nice blend of classy elegance and modern esthetics. It definitely looks different than most stovetops and its unique in that way.
Bialetti Elegance Venus Induction 10 Cup Stainless Steel Espresso Maker can produce 10 cups of coffee in one brewing, and the quality of coffee is very good, based on numerous customer reviews. People are generally quite happy with what they get. On the surface, it's a pretty good stovetop…
…but it's not all peachy.
A great number of people complain about rust.
And yes, although you're thinking along the lines of:
"Wait, rust? How's that possible? Isn't it made of stainless steel?"
It's true.
Not right away, but soon enough.
After a month or so, many customers noticed rust slowly forming on the bottom of the stovetop base. Now, the Bialetti Elegance Venus Espresso Maker really is made of stainless steel, but its quality is questionable.
Pretty unfortunate.
Our experts were left disappointed.
And there's more…
The Bialetti Elegance Venus Espresso Maker isn't made for fast and flash-burning stove tops, which is a real shame.
Also, it can leak over the lid and the lid itself is quite unsteady. Some people have even complained about it falling off!
All in all, if you want an affordable stovetop that will make great coffee, then the Bialetti is one way to go.
But the flaws might be off-putting to many.
Truthfully...
It's with good reason.
Features
Made of stainless steel (all parts)
Solid metal build
Unique design
*Not made for fast and flash-burning stove tops*