If you're looking for an awesome meat grinder, this Betitay unit is a good choice. Made with high-quality materials, it's both powerful and multifunctional. It has 1800W of peak output power and 500W rated power.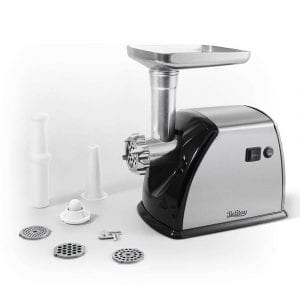 With its stainless steel exterior and cutting knife, you can be sure this unit will provide you with excellent grinding for a long time. The mechanism is metal gear driven so it's exceptionally powerful.
This Betitay unit is also multifunctional – it comes with three accessories, which means you can cut fine, medium, and coarse grinds for making stuffing and filling. You can also use it to grind fish and vegetables.
It gets better:
Other than the three basic grinding accessories, this unit also comes with attachments for kibbeh and sausages, a cutting blade, a food pusher, a hopper plate, and grinding head. This means all your grinding needs are met with this one handy product.
When it comes to safety, this unit features a motor protection system and circuit breaker, so you can be sure nothing can go wrong while using it. It's also extremely easy to assemble, disassemble and clean.
Features:
Dimensions: 4.5 x 11.4 x 14.5 inches
Weight: 9 pounds
1800 watts lock power
500 watts rated power
Frequency: 65Hz
Voltage: 120V
Grinds up to 100 pounds per hour
Multifunction
Circuit breaker
Stainless steel housing
Advanced motor protection system
Low noise
Good ventilation
Easy to assemble and clean
Comes with 3 cutting plates, sausage attachment, kibbeh attachment, food pusher, cutting blade, and hopper plate