The night vision800 are digital IR night vision binoculars packed with tons of great features.
The best part about these binoculars is they're super versatile! You can use them for hunting, camping, boating, fishing, caving, paintball, stargazing, rescue/recovery, security surveillance purposes, and so much more.
Let's dig into the good stuff: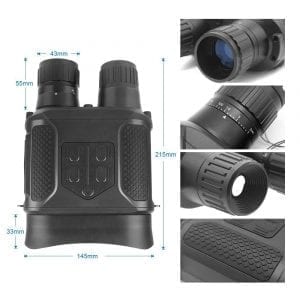 First of all, this product has a large 2-inch TFT display screen, which supports a resolution of 320x240 pixels.
With the help of a convex lens, you can easily convert this 2-inch screen into a 4-inch end-to-end display for a better viewing experience and, of course, outstanding image quality!
Here's something cooler:
These binoculars can also be used as a live infrared surveillance camera; all you need to do is to connect them to your TV or PC.
More interesting features!
These binoculars offer incredible visibility even for longer distances with 7X magnification, a 2X digital zoom, and a 31mm objective aperture.
The ¼ CMOS image intensifier tube also does wonders for optical clarity.
Moreover, the night vision-800 is equipped with an 850NM 3W Infrared Illuminator that allows a viewing distance of up to 1300ft (or 400m) for both day and night use.
But our research found the nighttime results were much better.
Another cool thing about this product is that images and videos saved can be stamped with the date and time. So you can easily relive your favorite moments in the future.
These binoculars operate with 8 AA batteries, which are sadly not included in the package.
The runtime of these binoculars is 6 hours with the IR illuminator switched on, but they can last up to 14 hours without it.
Let's talk about the usage…
We feel it's fairly easy to get a hang of the night vision-800's user interface of the night vision-800. You simply have to start browsing through the features and you'll be surprised each time with what the product has to offer.
These binoculars come with 11 built-in languages, so you pick the one that suits you best. They also come with standard replay and viewing functions to let you browse through your photos and videos.
Yes, it's outdoor-friendly too!
The night vision-800 is IPX4-rated, which makes it water-resistant to a certain degree. It also comes with a mountable tripod so you can steady your binoculars and capture the perfect visuals. Lastly, it comes with a 1-year warranty.
Features:
Built-in 2" TFT display; can be converted to 4" using convex lens, 320x240 resolution
7X Magnification, 2X digital zoom, 31mm objective aperture
Built-in 850NM 3W Infrared Illuminator
6 Hours continuous runtime with IR Illuminator on, 14 Hours without
User-friendly interface: Built-in menu, 11 languages support, replay function
Outdoor-friendly: IPX4 Water Resistant, Tripod mountable