This Bend-It Brand Soccer ball is great for training without breaking the bank. This ball is one of the most moderately priced on our list for best soccer balls but that doesn't take away from the quality you get here. There's an overwhelming amount of positive things to say about this soccer ball and that's what earned it first place on my list.
Design: 
This Bend-It soccer ball is designed with training in mind. It's a regulation size 5 soccer ball which means you'll train with the same weight and feel as the professionals! It offers a seamless, thermo-bonded surface that's 100% Polyurethane. You can train with this ball for a long time without worrying about it wearing out prematurely. This design also means no matter how hard you play, your ball will maintain its perfectly round shape. So, when you train you are training with the same feel each time and are bound to perfect your moves!
Durability:  
This Bend-It soccer ball is also FIFA tested and boasts ranking alongside some of the top soccer balls on the market worldwide.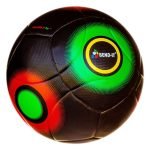 In order to pass the FIFA test, this has to be one tough ball! The Bend-It ball also has a butyl bladder for its air system making for better air retention and less time spent refilling!
Reviewers consistently remark about the high quality of this ball and how it compares well with other soccer balls that are easily double and triple the price. It's also worth noting this ball ships fully inflated and ready for play!
Technology and Training:  
Bend-It is very proud of their Valve Position Marker (VPM) technology with this soccer ball. The point of using VPM is to help gain perfect foot placement during training.
When you have the right foot placement you get the most control and can generate more power per kick. 
Bend-It is particularly proud of how this ball helps you perfect the Knuckleball movement. Now, I didn't know much about this particular soccer move but it's a skill worth acquiring! If you hit the ball just right for a Knuckleball kick, your ball will head on a (seemingly unpredictable) zigzag pattern, making it harder to block by the goalie. The Bend-It ball uses their VPM technology to help users perfect this movement during their training.
Bend-It also uses what they call, Visual Response Color Technology (VRC). This basically means they make their ball high-contrast and high-visibility. This helps during fast-paced training exercises by making it easier for your eye to track the ball as it moves, against any background.