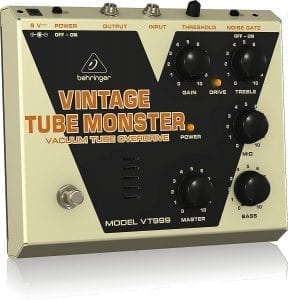 If it's vintage overdrive you're looking for, you'll definitely want to take a look at the Tube Monster from Behringer. It has both the sound and the look of classic overdrive pedals from the '50s and '60s, combined with modern build techniques that make it a more durable and versatile option.
Behringer markets this as a tube amp crammed into a pedal, and while that's a bit of an exaggeration it's not far from the mark. The 12AX7 vacuum tube inside the Tube Monster gives your tone a warmth that digital effects can't replicate.
Want to know the best part? You can get the Tube Monster for right around fifty bucks—definitely one of the most affordable ways to add a true tube overdrive to your sound. Experimenting with different tubes also gives you more ways to customize the effect sound. Overall a solid pedal at a great value.
Features:
Controls: 3-band EQ, gain, and master knobs; noise gate with adjustable threshold
Dimensions: 8.5" X 7" X 2.5"
Weight: 3 pounds
Power: 9V AC adapter (included)
True Bypass