Bangbangche have come up with a great new LED Light Bar to disrupt the market for off-road vehicle lighting. Their 20 inches 126W Flood/Spot Combo Cree LED Light Bar offers all the good parts of any top-notch LED Light Bar, and that too at a relatively low price!
Why is it a good solution for your off-road vehicle lighting issues, you ask?
Here's why…
The Bangbangche 20 inch LED Light Bar is a flood spot combo. The floodlight aspect of the light bar increases the width of your vision, and the spotlight aspect gives you a clear-cut vision of what's exactly in front of you. This combination helps you get ready for any and all possible difficulties the terrain might present to you.
But that's not all…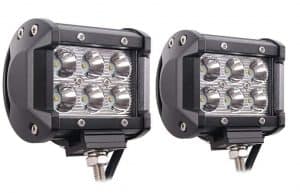 Your package will include 2 additional 18W spotlights, each having their own wiring harness included as well. This helps you have total control of the terrain, and with a vision like this, there is absolutely nothing in your path that you won't be able to spot from a great way behind.
The product is also IP67 rated, which means it is waterproof and dustproof. In fact, it can stay waterproof for up to 30 minutes in 1 meter of water.
The build quality of the product is also excellent. Die-cast aluminum housing is used along with toughed glass and a stainless-steel mounting bracket. Safe to say that it is built to sustain the harshest of conditions.
This LED Light Bar has a life expectancy of around 50,000 hours. This is due to the great quality of heat dissipation that it has. It never lets the LEDs inside heat up, instead, the excess heat is removed by the aluminum heat sinks at the back.
The Bangbangche 20 inch LED Light Bar comes with a 1-year warranty, so you are safe and satisfied at that end. And if you have any issues with your product, the company also offers 24 hours customer support.
Package includes: 1* 126W 20inch Led Light Bar, 2* 18W Spot Lights, 2*Wring Harness, All Mounting Brackets and Screws
Features:
Material: Die-cast aluminum housing
High Performance: IP67 Waterproof Rate, waterproof up to 1 meter of water for 30 minutes and effectively dustproof. With durable die-cast aluminum housing, toughed glass and stainless steel mounting bracket, the light bar can withstand harsh condition.
Better Heat Dissipation: Light bar backside aluminum sinks enlarged the heat dissipation area, cooling the light quickly, protecting the light bar from overheating while working. Die-cast aluminum housing Is heat resistant and also durable enough to extend light bar's lifespan to over 50000 hours.
Advanced technology: Lamp reflector used Italian optical reflectivity projector lens, long reflect distance.
1-year warranty and 24 Hours Customer Service: New Brand Lights and Well Pack Package (1PCS 126W 20'' Combo Led Light Bar, 2PCS 18W Spot Light Bar, 2X Wiring Harness and All Mounting Brackets and Screws)