Now, it's time to talk about the second runner-up in our list.
First of all, let's appreciate the fact that Baden has been in the sporting goods business for over 35 years! Safe to say, they know what they're doing (or making).
But is this basketball the one for you? Let's find out: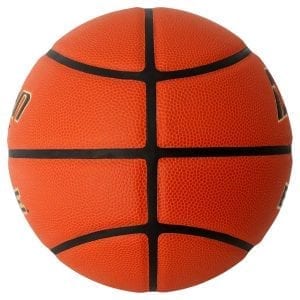 Before anything else, you should know that the Baden Elite has a slightly tacky feel to it, as opposed to the smooth, soft feel typical of most other balls.
The good thing is, this sticky quality makes the ball super easy to grip and control!
If that wasn't enough, the ball's composite microfiber cover further increases its grip-ability.
Now, let's talk about the Cushion Control Technology (CCT) of the Baden Elite. This cool feature increases the lifespan of the ball and makes it better to grip with continued use.
The ball also offers great bounce, but our review showed it's still not as good as some of the other high-end options out there – like the Wilson Evolution.
Here's why we still love this one:
To tell you the truth, we were pleasantly surprised by how well Baden fared against the big boys – the ball delivers what it promises.
Plus, it's NFHS-approved, so you don't really have to worry about trying it out – it has already passed some rigorous tests!
You'll be pleased to know this basketball is one of the more cost-friendly options in our list – so if you're the kind of guy/gal who doesn't want to splurge too much cash to get a decent ball, this is the one for you.
Wait, wait…
We feel we just HAVE to mention here that the Baden Elite is the official basketball of a number of leagues, high-school associations, and colleges around the US. Cool, right?
Features:
NFHS-approved
Cushion Control technology
Stealth soft-valve system for a soft and effective bounce
Tacky, microfiber cover for better grip
Polarizing channel design
Symmetrically balanced