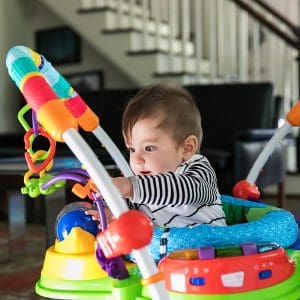 If you're looking for a quality baby jumper, the Baby Einstein Jumper is a nice choice. Users report that this sturdy jumper is easily assembled and simple to use. The height can be adjusted to fit your child and the 360-degree rotating seat means that the baby can easily access the various toys on the jumper.
This jumper offers plenty in terms of entertainment. It has three activity stations with more than 12 activities on offer, including a piano and a frog bead chaser. It stimulates the baby in all the most important areas (visual, tactile, auditory, cognitive, etc.).
Unlike some other jumpers out there, the volume on this one can be adjusted so parents can keep their sanity intact. Another great feature of the Baby Einstein is that your baby's favorite toys can easily be added to it.
However:
There are also some downsides. Namely, this jumper is quite large, so it doesn't fit through most doorways. If you want to move the jumper around, it will have to be disassembled a bit. Also, most users find the assembly process to be easy and straightforward, but our research has shown that attaching the seat can be a hassle.
You can see the instruction manual here, and if there are any problems, here are the details of the warranty.
Features:
Dimensions: 30.5 x 33 x 29 inches
Weight: 19 pounds
Weight limitation: 25 pounds
Well-made and sturdy
360-degree rotating seat
3 activity stations
12+ activities
Light-up piano
Frog bead chaser
Volume control
Additional links for attaching other toys
Easy to clean and maintain
Height adjustment
No doorway required
Simple to assemble and disassemble
Powered by 3 AA batteries (not included)