Babolat is a name tennis players will know although they haven't been producing shoes nearly as long as dedicated shoe companies or other athletic manufacturers. The Babolat Propulse Fury shoes are our top pick from the company and one that should be high on your list.
The first thing you'll notice about these shoes is the design. They have a 90s kind of vibe, which isn't a bad thing – especially if you like fading color schemes. The outside of the shoe has one of those which extends to the quarter on one side. On the opposite side, the mesh is fully encased three-part shield system.
The design isn't just for looks…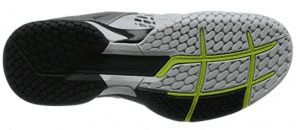 This shoe has a higher collar which gives you extra support, but it's cushioned and quite comfortable along with the tongue. That funky outside layer is a shield system of sort comprised of three different technologies with the S-Shield, Pro Shield and Soft Shield tech.
The S-Shield takes care of the upper and is a material that varies in thickness by the zone. Areas that catch more of the ground are thicker, and it tapers in zones which require more flex. The Soft Shield targets flexible areas of the shoe as well while Pro shield uses high-performance materials to increase durability in localized spots.
Active Flexion is another cool piece of tech built into the shoe. It doesn't add any cosmetic flair but certainly won't cramp your style as it handles pressure points in your foot. Like a shoe with thick tread built to last years on the court? Well, it's hard to top Michelin rubber, and these shoes are suitable for all surfaces as you can see from the video below…
The Babolat Propulse Fury comes with a six-month warranty on that thick Michelin outsole and is available from a size 6.5 to a 12 in standard width. This pair is only available in the black and white fade color scheme, but there is a slick grey and orange combo available as well.
Features
Orhtolite insole
Kompressor heel cushioning
Tri-shield technology
15.2 ounces (size 10 ½")