Created for both indoor and outdoor use, the Aspectek 20W Insect Zapper is one of the coolest mosquito traps we tested.
This device was developed to kill mosquitos as well as a variety of other insects that may be infecting your patio or home. Like the other models listed here, it uses no chemical for its operation.
Rather,  it calls on two 10 W UV light bulbs to attract bugs to the 2800 V electrical mesh grid where they are zapped by the unit and killed for good.
The Aspectek 20W Insect and Mosquito Zapper is easy to maintain as it's removable plastic tray allows for easy cleaning.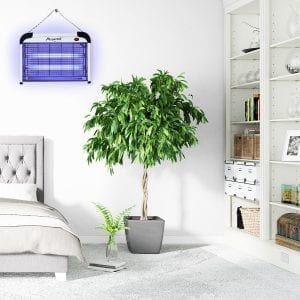 What's really cool is:
Because the device can be set on the floor or hung on the included carrying chain, we found it could be placed in virtually any room in your home or outdoor area.
It was also designed with safety in mind as it has a protective mesh over the electrical grid to prevent unnecessary touching, which gave us peace of mind.
Here's what we didn't like:
We didn't like that the device didn't come with a manual. And a lot of the customers we spoke to said it made it more difficult than necessary to navigate the replacement of the bulbs.
On that note:
The learning curve was still pretty simple without the manual, so we still rank this as one of the better mosquito traps out there.
The device does need an external power source for operation but is one of the strongest mosquito traps on the market.
We also found this unit to be a bit loud. Users of the Aspectek 20W Insect And Mosquito Zapper may be turned off by the loud zapping noise, but its effectiveness in removing insects from your home or yard is bar-none.
Features
Two 10W ultraviolet light bulbs
Safety mesh
2800 V high-voltage electrical grid
Chain for hanging
Removable plastic tray
Self-cleaning grid design
CE and RoHS Certified
6000 sq.ft. coverage