Is it a recliner or a miniature sofa? That may be the first question to come to mind when you set eyes upon the lovely Hogan Oversized Recliner from Ashley Furniture. It's considerably wider than other recliners on our list which makes it an ideal choice when you want to snuggle up and get comfy for the night.
The obvious selling point of this chair is its size, but that also happens to be the only drawback. If you're looking for a smaller cozy recliner or like to feel snug while you sleep, this one won't be for you. On the flipside, it's roomy enough for two, and it's the only chair that allows you to sleep in several different positions due to its size.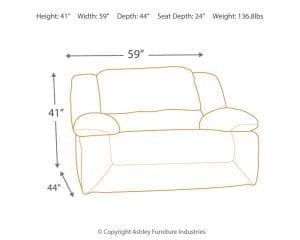 This Mocha colored chair is covered in microfiber and has a high-resiliency foam cushion that's wrapped in poly fiber. The seat and back cushions are firmly attached, and as its polyester, it will be easy to clean as well. That's important for any chair, especially ones you may end up drooling on while you doze off. While not quite built like a tank, we don't think you'll have any issues with the build quality considering it has a corner-blocked frame and a reinforced metal seat.
Just how big is it?
One thing we like about Ashley Furniture is the fact they give you a full range of measurements aside from the usual width, depth, and height…. Which is 59" x 44" x 41" in case you were curious.  If you dig deeper, you'll find out you will need at least 3" between the chair and the wall and that it measures 68" in length when fully reclined. There is 28" of space between the arms and the arm height is set at 27".
Curious about seat depth? Well, wonder no more as the Hogan's seat is 21" from the floor and 24" deep. The last measurement you'll want to keep in mind doesn't have anything to do with the chair at all, but your doorway. In order to get this beast where it needs to go, you'll need to have 32" doorways, or you could be in for a rude surprise.
As for the features, there aren't too many aside from the pull-tab reclining motion which sends you backward and off into dreamland. That means there are no cup holders, massagers, or charging ports on this one – it's merely an oversized comfy chair. That's not a bad thing, especially when you're just looking to get some shut-eye.
We feel the Hogan Oversized Recliner is an excellent choice for a good nights slumber as you won't stick to the seats, and you can curl up or stretch out. It's also a chair that's stylish enough for any home, just keep the color in mind as some users reported that it's a little darker than it appears in the photos. The Hogan comes with an assembly guide and a tiered warranty from Ashley Furniture which offers 1-year free labor along with a limited warranty on all parts.
Features
Zero Wall style
Pull-tab reclining
Easy to clean
Corner-blocked frame
129 pounds