This 6.5:1 gear ratio baitcaster has a lot going for it, especially with regard to durability.
We also found this to be a very smooth reeling baitcaster, which is likely due to the thirteen bearing system that Ardent managed to stuff in there.
It's a solid choice.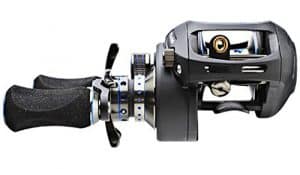 The construction on this baitcaster is awesome. The aluminum components fit together very snuggly and hold up to abuse extremely well.
The construction is relatively simple, so you don't have any over-engineered parts to worry about breaking, either.
For this reason, this is a great every-day option if you are looking for something that will hold up to regular use without too much maintenance.
Additionally, the 6.5:1 gear ratio allows you to make use of just about any type of bait. It might not function as well as more specialized high and low gear ratios with those baits, but you'll have a ton of versatility.
We love this baitcaster for an easy 'throw in the flatbed' option. You'll know that you can make the catch in just about any situation with a baitcaster like this.
This baitcaster is backed by a three-year limited warranty on materials and manufacturing.
Features
High strength frame
Adjustable braking system
Carbon fiber handle with EVA grip