While it may have the word 'Cricket' in its name, don't be fooled. This board is an electronic dartboard with 40 different games and 179 variations.
It features a large scoreboard, keeping track of scores for all the games on offer. The segments are 'NylonTough', which the manufacturer boasts will increase durability and playability over the long term.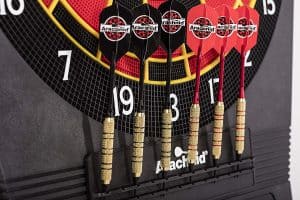 The segment dividers are very thin, increasing your chance of scoring on the board. It comes with six soft tip darts, and additional dart tips if you damage any.
The board has a number of great features we had a lot of fun with in testing. There's a bounce out amend feature if you're feeling forgiving to your friends. There's a solo play feature if you're just practicing at home. There's also the hilarious heckler feature, with three different levels.
The board will harass and heckle a bad shot and applaud a great score or shot. It adds another dimension and can be a lot of fun. Thankfully, you can turn it off if you don't want it on, or say if someone gets a bit angry.
The board also provides some statistics, with an average point per dart statistic at the end of every game, allowing you to keep an eye on your ability and evaluate your dart game.
Specifications
30 x 22 x 3 inches
10 pounds
Electronic dart board
Six soft tip darts with replacement tips
40 different games and 179 variants
Scoreboard
Heckler feature
Post-game analysis (points per dart)