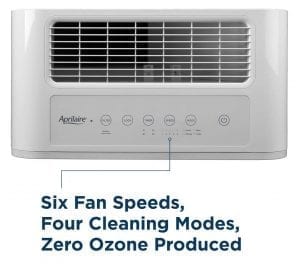 Eliminating allergens is what this Aprilaire model does best. It's advertised as being ideal for eliminating pet dander, and while this is true it's not limited to that one function. It is equally effective at removing mold spores and other airborne allergens, ensuring you'll breathe clean air in any environment.
Most air purifiers can capture large contaminants like pollen and pet dander, but the Aprilaire Allergy + takes this a step further and also purifies the air of gaseous allergy triggers, including VOCs. There's an extra layer of alumina oxide in addition the activated carbon and true HEPA filters you'll find in other air purifiers, and this is what makes it so effective at capturing all the smells and pollutants in your air.
The Allergy + is more convenient to adjust than most air purifiers, too. When it's in automatic mode, it will change the fan speed in response to changes in the air quality, which it detects using an advanced suite of sensors. You can see this sensor data using the colored light indicator on the top of the device if you want to make manual adjustments. There are six fan speeds to choose from, including a Turbo Mode that can handle pretty much any contaminant—and quickly.
The Aprilaire Allergy + isn't exactly small, but it's fairly compact considering how many filters there are inside. The carrying handles on the side make it a lot easier to move around, too, although given how much space it can cover you probably won't need to move it much. Pet owners especially will love this air purifier, but it's just as good for anyone who wants pure air hassle-free.
Features: