Appearance and Hardware
The Apache AL9 comes in an all-black, sleek, compact, and lightweight design. It only weighs 2-pounds and stands at 14.2-inches tall by 6.3-inches wide, and an overall depth of only 1.5-inches (front to back). The Apache AL9 can handle laminating pouches from the size of a business card to the standard A4 size, making it a rather versatile machine.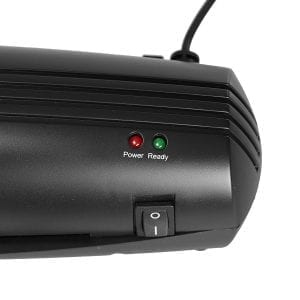 Additionally, this laminator is fitted with a 4-roller system that can perform both cold and hot laminating. It also boasts an ABS jam release button for ease of use. Another feature we really loved is the conspicuous power and ready LED indicators that make it easy to know the status in which your machine is in.
Features and Performance
The Apache is really light making it easy to carry around to class or the office, yet it feels sturdy when working. We really liked its small footprint—meaning it will use a minimal amount of your work area. In fact, you can easily stow away when it's not being used as it can even fit in a desk drawer. The description says it takes up to two and a half minutes to get ready for lamination, in reality though, it takes almost a minute less. Apache also errored on the side of caution when they stated it takes a minute to laminate. When in fact, we found it does so in about 45 seconds.
Some of its outstanding features that help earn this laminator a best in class ranking include:
Quality grade motor and heating element that delivers fast and efficient performance
4-roller system that ensures one pass is sufficient for proper adhesion and lamination
Ready to use temperature of 212˚F
9-inch entry width
Furthermore, the laminator sheets that come with this unit are of a high-quality and they will surely improve the aesthetics of your print.
One thing we did find off-putting was its lack of a user guide. Without proper instruction, you may at first, have some trouble feeding the laminating pouches perfectly straight into the machine. Some users reported this issue to cause crinkles and bubbles. Thankfully, the package comes with 20 free pages you can use to get acquainted with the machine.
The Apache is not meant for heavy use and that makes sense, considering its relatively low price. However, for an occasional laminating job on materials such as luggage tags, business cards, or anything up to an A4 sized paper, it does wonders. Thicker laminates such as luggage tags may have to pass through the machine twice although, in most cases, we found one pass still works just fine.
In case the laminating sheets get stuck inside when using a letter-sized pouch, be sure to press the ABS jam release button since there have been cases where such a scenario ruins the machine completely. In case of any other issues, the customer service has some great reviews for being responsive and caring.