These Aomekie binoculars are designed to survive the toughest of conditions. In fact, the product's rugged built even allows it to be used underwater!
This product has Nitrogen gas filled inside the binoculars telescope, which eliminates fogging and mold on the internal lens surfaces. They allow you to look clearly at the object in front of you without much hassle even in humid or extremely rainy terrains.
Let's dig into the good stuff…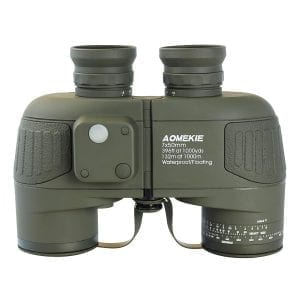 These Aomekie binoculars come with an internal rangefinder scale that tells you the exact distance and size of the object in front of you. How cool is that?
The device also features a directional compass with a viewing range of 396 ft. at 1000 yards. The viewing range is more or less similar to the industry average. But at such a competitive price, Aomekie's binoculars certainly have an edge over most of their competitors,
The Aomekie binoculars come in various colors, such as army yellow, army black, army blue and army camo. You can also get the iconic army green variant, which has to be our favorite one, to stand out from the crowd!
There's more!
These military binoculars feature a hi-index BAK4 prism glass, one of the most popular Porro prisms out there, and produces a bright, sharp image with vivid contrast!
Its large 22mm lens feels super comfortable on the eyes, even if you wear glasses. In fact, these binoculars are designed to protect you from eye fatigue and dizziness, while providing you with an HD viewing experience at the same time!
Great, but what about Night Vision?
Safe to say, these Aomekie binoculars deliver a top-class night vision experience!
The large 50mm objective lens of this device illuminates objects in front of you even in extremely low-light conditions, whether at dusk or dawn.
It provides excellent value for money because it's relatively cheaper than most other models. At the same time, it does what it promises.
Not only that, these binoculars are also IPX7 water-resistant! A feature that's missing even in some of the more expensive models.
But don't be too hasty…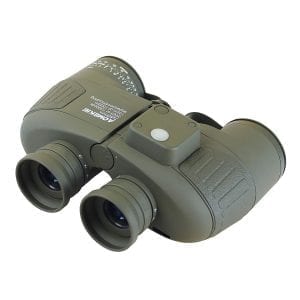 Along with all of its good things, the Aomekie comes with several drawbacks and flaws as well.
First of all, we felt the built of the viewing scope was very weak. A lot of users reported that it gave way after continuous use. Since the product is not backed up by a warranty, there's no way to raise a claim in case it breaks down.
Moreover, the binoculars don't support the feature of capturing/saving pictures or recording videos. Also, we feel that the product's rangefinder feature isn't efficient enough.
You could spend some more and go for better binoculars. However, this Aomekie model still remains a favorite of many, despite some of its drawbacks.
Now, these binoculars require 2 batteries to run, which are included in the package. You also get a military carrying bag, a lens cleaning cloth, and a lanyard along with these binoculars. Not bad!
Features:
Internal Rangefinder Scale and Directional Compass with illumination switch
Hi-index BAK4 prism glass
Large 50mm objective lens
Field of view is 396ft/1000 yards
Durable rubber armored coating
IPX7 water-resistant and fog-proof