Plenty of quality has been designed into the Amprobe AM 570 multimeter models, allowing you to take advantage of functional features such as an integral flashlight to help you see wires and connections easier.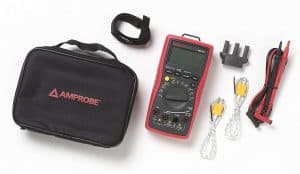 This multimeter was developed for professional use, leaving homeowners feeling short as this particular product has more functions and capabilities that occasional use warrants. The device has been rated to Cat IV/600V, Cat III/1000V safety and offers voltage testing from 1000V to 10A, giving plenty of range for testing and measuring as a professional electrician.
You'll appreciate the true RMS and the ability to measure a variety of electrical functions including resistance, frequency, capacitance. The unit is also rated for operation at -40 to 1832°F and comes with a temperature adapter.
What's great about this multimeter is that it includes a handy carrying case, 9V battery, Velcro strap, two type-K probes, and test leads. This unit earned a spot on our best multimeter list based on its vast capabilities for professional use and easy to understand functionality.
Features
Measures resistance, frequency, capacitance
Provides true RMS
Duel thermocouples
Low impedance function
Tests voltage 1000V and 10A
Rated to Cat IV/600V, Cat III/1000V