The AmazonBasics Pet Habitat Jumbo size offers lots of room for two guinea pigs to run around, although its ramp cuts into overall floor area.
The water bottle hangs outside to save space.
Owners hear "happy noises" and observe popcorning when their guinea pigs first go into this cage.
Most guinea pigs like perching on the balcony, at least the ones who jump onto it or climb the reportedly "steep" and "slippery" ramp.
Mixed opinions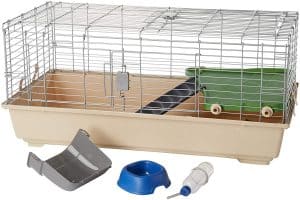 While guinea pigs enjoy the balcony, a few owners state it sags and/or cracks under the animals' weight.
If your guinea pigs are on the "hefty" side, take note.
Some people like and some dislike the hay rack and the advertised non-tip bowl actually does tip over.
What people did agree on…
Pet parents like the AmazonBasics Pet Habitat's convenient design.
It has a large double-door top opening as well as a double-door side opening for accessibility and daily spot cleaning.
For deep cleaning, the plastic tray separates from the wire upper section for dumping out debris and scrubbing the bottom. The wire top requires a few minutes of fiddling to clip it out and back into the tray.
Also, reviews unanimously concurred assembly is quick and easy, but it's a bit wide and bulky for moving.
Features
Standard cage dimensions: 29.9" long x 18.1" wide x 18.1" high
Large cage dimensions: 40.2" long x 21.3" wide x 19.7" high
Jumbo cage dimensions: 47.2" long x 23.6" wide x 20.5" high
Weight (standard): 11.1 pounds
Weight (large): 15.6 pounds
Weight (jumbo): 18.4 pounds
Includes balcony with ramp, food dish, water bottle, and hay guard
Limited one-year warranty