The function of your air purifier is obviously much more important than how it looks, but there's nothing wrong with getting something that's both powerful and attractive. This is especially true when it comes to an air purifier for your living room or other open spaces, since those tend to be on the larger side.
The BreatheSmart from Alen fits this bill, giving you clean air from a device that will look great in your home. The design of this model is pretty innovative. It features 15 customizable panels in a range of colors so that you can choose the right look for your room.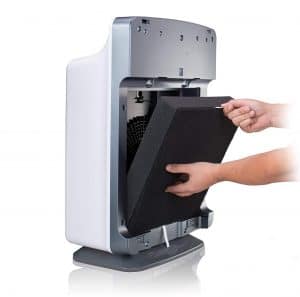 But that's just part of the story.
It's also customizable on the filtration side of the equation, with four interchangeable filters, each of which is ideal for a certain situation. The HEPA-Silver is our favorite for mold, and it's also designed to take care of germs and pollen, making it a great choice for all-around air quality. The unit's display will let you keep track of your air quality so you know the unit's working.
Even with all the customization options, this air purifier is easy to operate. Both the purifier and the included ionizer have a one-button activation, and it's equally easy to re-set your filter life indicator or change the fan speed. Overall, the BreatheSmart is our favorite choice for when you want to breathe easy in style.
Features: