Alen takes its motto of "Pure air for life" seriously.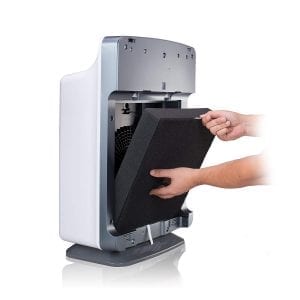 Their sole focus is on air purifiers and filters, and they're experts in their field, taking advantage of the most modern technology and quality construction techniques to give consumers a product that will last for years—guaranteed. The limited lifetime warranty that comes on all of their products is proof of their confidence in the quality of their air purifiers.
The Alen BreatheSmart is a powerful air purifier designed to freshen entire rooms, up to 1,100 square feet in just a couple of hours. This makes it a great option for homes with open floor plans, but also gives it the versatility to work for offices, restaurants, and other public environments. It can cover this large area thanks to its super-powered fans, which blow air all the way up to the ceiling and circulating the air in the entire room.
We also liked that the BreatheSmart gives you options. It's both smart and customizable. If you put it on auto mode, it'll use its suite of smart sensors to assess and improve the air quality. You can also see the readings for yourself and make adjustments manually. The four different filters that come included give you a range of options, from odor control to allergy relief. The OdorCell filter is especially great for smoke, destroying the odor-causing particles at the molecular level to truly eliminate the smell.
As if that's not enough…
Alen Air Purifiers are some of the most attractive on the market.
They're designed with just as much attention to detail on the aesthetic side of the equation as they give to the inner workings. It comes in over a dozen different colors, and the sleek, compact housing will blend right in to any room. If you're looking for the ultimate in style and functionality, the Alen BreatheSmart should top your list.
Features: