The beginner's starter kit that comes with the Aklot concert ukulele is the most comprehensive of any on this list. It includes standard accessories like a gig bag and a neck strap for easy playing. It also includes an assortment of picks, a polishing cloth, spare strings, a digital tuner, and an instruction booklet to help you get started. Your purchase also comes with nine free lessons at the Aklot website that teach you the basics, from tuning to strumming techniques.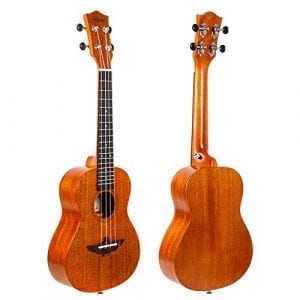 Aklot's ukuleles use advanced copper tuners. This translates to more stable intonation than the tuners on most student-model ukes so you won't waste half your practice time getting your instrument in tune. An instrument that won't stay in tune can be incredibly frustrating, especially for a beginning player. If you have to keep stopping to adjust the strings, it can make it a lot harder to get into the groove and focus on the music. Not having to worry about that already gives the Aklot a lot of value.
The sound quality of this ukulele is as good as you'll find on any instrument in the under 100 dollar price range. It has a rich, warm tone with a lot of sustain, without you first needing to adjust the action or change out the strings. The body is made of traditional mahogany, with a solid wood soundboard that can put out more sound than cheaper laminate models. This is also where a lot of the sustain comes from. The top of this model will also age and improve over time, just like other solid wood instruments.
The Aklot AK-23 concert ukulele has the construction and sound quality to serve you well into the intermediate stage of your musical journey. It's sturdy enough to stand up to travel and daily wear and tear. The attention to detail makes it a very playable instrument that's easy for a beginner to maintain, letting you focus on your technique without limitations.
Specs at a glance:
Weight: 3.2 pounds
Top: Solid mahogany
Body/neck: Mahogany laminate
Fingerboard: Rosewood
Bridge: Rosewood
Nut/saddle: Bone
Hardware: 1:18 pure copper geared tuners
Included in the box: soft-sided case, strap, microfiber cleaning cloth, picks, spare strings, QuickStart instruction booklet