This is one of those whole house humidifiers that add a touch of elegance to your household. It releases 7.4 gallons of mist daily and it can humidify up to 2400 square feet.
As far as the features are concerned, the AIRCARE EP9 800 has a digital thermostat, which is a great little addition. With it, you can control the humidity level in your household through nine fan settings.
But there's more.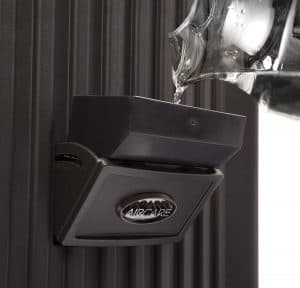 The AIRCARE EP9 800 has a 3.5-gallon water tank and – listen to this – the unit can run for up to 60 hours! The users we contacted love the fact this humidifier can last for so long between two refills.
And more…
This humidifier is also very easy to move around. Don't let the size and build fool you – portability is a no-brainer here. With its castors, the unit can be manipulated easily, if you want to change its "working position". Although it weighs 27 pounds, moving it around won't be a problem.
What about the performance?
The AIRCARE EP9 800 is praised for its performance and reliability. The control panel is simple and intuitive, so you can't mess anything up (always good to know!).
The digital display shows the humidity level, as well as the fan speed and the desired humidity level. The three buttons next to the display are properly labeled, enabling you to control power, speed, and humidity. The unit has automatic shut-down, immediately after it reaches the desired humidity.
Another great thing…
Here's something so many users mentioned, because they love it. It's the pour-in fill door, just below the control panel. It's so simple to use, and it really makes the filling-up so much easier. You just open it up and pour water till maximum level.
After you've filled up the water tank, simply close the door and set up the unit. That's that. And there's also a refill reminder – when the humidifier is out of the water, you will notice an F flashing on the display. It kind of takes care of itself that way.
An interesting addition…
Thanks to its design, the AIRCARE EP9 800 can easily blend into "the surroundings", which is a great asset in any household. It has a nice color and can pass part of your furniture without any problem.
Furthermore…
The cleaning is a breeze because you just take out the wick and wash the inside of the humidifier, where it holds water. The wick is also easy to handle, as you can remove and change it easily. No one wants to lose too much time around this and with this humidifier – you won't have to.
What users also love is that they can position this humidifier almost anywhere without it seeming out of place. That being said, bear in mind this humidifier takes up space.
It's not the smallest of units, so don't expect it to be invisible. Yes, you can easily place it between two pieces of furniture, but first, make sure there's enough space for the humidifier.
The wick should be changed seasonally (at the beginning of every season). However, if you live in an area with hard water, it's recommended you change the wick more often. It will simply work much better with a new wick.
Are there any other issues with it?
There are a couple of issues users pointed out.
First of all, we need to mention the inaccurate humidity readings. Some users told us the readings were five percent more than the actual readings. Some doubled this number. It turns out, the unit is not very accurate when it comes to this.
It can also be a bit noisy, especially above the fan speed of 4. Some users say it becomes really noisy even after speed 2. So, there's the noise – be aware of that.
There's one more thing, though.
And this one bothers so many users…
The blue light on the display is very bright. If you keep the humidifier in your sleeping area, or can't stand this amount of brightness, it may be a problem.
FEATURES
18 x 18 x 27.2 inches; 27 pounds
covers up to 2,400 square feet
3.5-gallon water capacity
lasts up to 60 hours when full
9 fan speeds
automatic shut-down (when it reaches desired humidity or when it's empty)
control panel with digital display