Aeroblend's Starter Kit is an excellent choice if you're a beginner. Thanks to its dual action airbrush, applying makeup quickly and with precision is a breeze. Just press down to get the air in, and pull back to start applying foundation, blush, highlighter, or bronzer. Since the compressor has five different settings, you won't have trouble adjusting the pressure.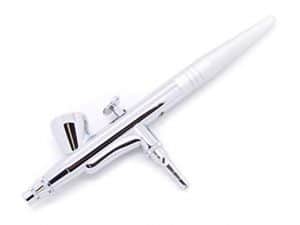 This is what it ships with:
The Starter Kit includes five different shades of foundation and two shades of blush, as well as highlighter and bronzer. These will last you quite a long time since you only need five to seven drops of each to cover your entire face.
What really helped this rank high is…
Since the makeup is water-based and contains only natural ingredients, it doesn't feel heavy or irritates your skin. The compressor is whisper-silent and the entire device is easy to clean.
However,
…There are a couple of issues with this Starter Kit. The foundation rubs off too easily and the shades don't work perfectly for all skin types.
Features
Dual action airbrush
Compressor with 5 settings
5 shades of foundation
2 shades of blush
1 shade of highlighter
1 shade of bronzer
Natural ingredients
Water-based makeup
Air hose
110V AC adapter and user guide