The Advanced Sleep Solutions Memory Foam Mattress Topper allows many back pain sufferers to sleep soundly, stay asleep for hours, and wake up with no (or much fewer) aches, spasms, and cramps. People love the soft, comfortable, and "un-mushy" high-density foam.
Side sleeper?
You'll like this one.
Three side sleepers from our focus group recommend this CertiPUR-US-certified model.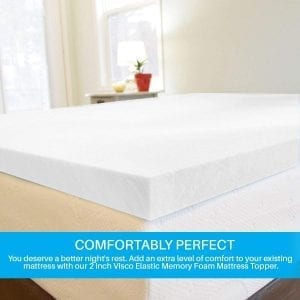 What about the foam?
The foam holds pressure very well yet also allows sinkage. As memory foam, it depresses and conforms to the shape of the sleeper but springs back up once the person gets up. For a few users, though, the foam sinks too much under their "average adult weight."
As with most models, the Advanced Sleep Solutions Memory Foam Mattress Topper is too soft some and too firm for others.
On reviewer concedes that while topper is very comfortable, "I am not sure it has helped my back. I still wake up with some back pain." A few users feel the foam is thin, uneven in thickness, and bunches up to be "lumpy."
The truth is...
The Advanced Sleep Solutions Memory Foam Mattress Topper is advertised on manufacturer's website as using polymer technology to "maximize air flow, all while dissipating heat." In our research, though, we found only reports of its coolness. The majority of reviewers say that the topper isn't cooling, but warm, hot, or good for keeping warm if a person has poor blood circulation.
Also...
Durability seems to vary among users. While some report the topper still going strong at nine months, others notice it going flat and losing support at around the same time.
Two people say that in their experience, after one week of use, the topper didn't "spring back" as quickly and even developed indentations. A few owners note that their foam toppers turned yellow within a few week or months. One even states that the foam turned her white bedsheets yellow where she slept!
The new-mattress odor was unnoticeable to some yet took a couple days to dissipate for others. Although the topper expanded easily for most new owners, a few report that the topper didn't expand to a full 2" in thickness.
This makes sense
The Advanced Sleep Solutions Memory Foam Mattress Topper is available in twin, twin XL, full, queen, king, and California King sizes. Several people complained that the topper was small for their mattresses, but the manufacturer sizes the toppers 1" shorter than standard mattress sizes in order to accommodate placement of fitted sheets.
Features
Dimensions and weight: (twin) 74" x 38", 9 pounds; (twin XL) 79" x 38", 10 pounds; (full) 74" x 53", 12 pounds; (queen) 79" x 59", 14 pounds; (king) 79" x 75",18 pounds; (California king) 83" x 71", 17 pounds
2"-thick memory foam
60-day return policy
Made in the USA