Okay, first of all – this is not meant to be a ball for professionals (even if it's called a PRO basketball).
Now that we've settled that, let's talk about the details.
Find out if this ball is meant for you: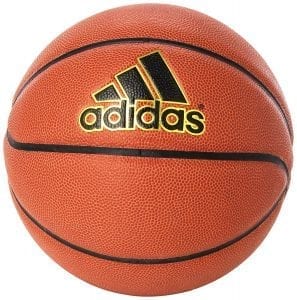 At best, the Adidas Performance is a decent ball for practice or a casual game with your friends.
The ball is made of vulcanized rubber, which is basically a relatively cheaper material than composite leather. Y'all know by now how popular composite leather is – so the material of this ball kind of disappoints.
On the bright side, this means it costs much less!
Now, these basketballs take their own, sweet time to break in. And even though they have a nice overall feel, they somehow feel really small in your hands.
The point is…
We recommend you go for the Adidas only if you're short on money and/or aren't looking for a professional, high-quality ball. This will do just fine for an odd game on the weekend with your mates or an occasional solo session in the gym.
Features:
NFHS-approved
Nylon-wound bladder
Made of vulcanized rubber