Adidas is synonymous with perfection when it comes to producing high-quality soccer shoes. The Samba's have been around for as long as we can remember and they have consistently given us top results whenever we've tried them out.
Let's dive into the details:
This Samba edition comes with a strong, sturdy, and a very comfortable rubber sole that extends the life of the shoe. It also features a full grain leather covering that makes these shoes stand out from the crowd.
The shoes have a gum rubber outsole that might feel heavier on the feet but provides an excellent grip on astroturf, soft surfaces, and other concrete surfaces.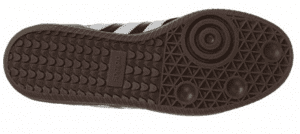 In our opinion, the best thing about these shoes is this:
They're great for providing an overall balance to your game; offering just the right amount of control and speed. Simply put, the Sambas are an excellent all-around soccer shoe.
However…
The Sambas do come with a slight arch support that might get uncomfortable for people used to flat shoes.
Would that annoy you?
Luckily, you can easily remove the arch support by removing the insole and peeling off the foam underneath.
This Samba edition comes in two color variants of black and white, and a sleek suede upper with contrasting suede overlays and a 3-Stripes design, which gives these shoes a beautiful finish.
These classic Samba's by Adidas just never went out of style!
Features:
Rubber sole
Full grain leather upper
Die-cut EVA insole for lightweight comfort
Non-marking gum rubber outsole for excellent grip on all indoor surfaces
Arch support