This zebra patterned edition is a lace-less indoor variant of Adidas Nemeziz Tango 17+ 360. The front face of the shoe is made of Agility Bandages, a feature unique to Adidas, which makes these Soccer shoes a lot more breathable than their competitors.
Our research shows that these shoes are also super easy to slip on. The elastic bandages wrap around your foot and compress it, leaving you with a nice, snug fit.
The Polyurethane top layer of the Nemeziz is equipped with grip dots that run through the forefoot and toe-box area for structure and protection in case you're playing street soccer. The shoe also has a mid-cut design with silicone grips on the inner side to hold your foot in place.
We aren't done yet…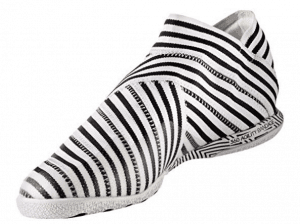 The first touch off the ball is impressive due to the thin overlapping Agility Bandages on the upper side of the shoe. The heel of the shoes is made of basic suede with a good amount of padding that further enhances your first touch.
But the shoe isn't very lightweight itself, owing to the fact that it has a foamy bottom and an Agility Bandages upper.
These shoes have fully removable perforated insoles, featuring a thin suede liner on top and underfoot cushioning that increase the beauty of the shoe while making sure it's super comfortable to put on.
It offers a fair amount of traction for indoor courts, asphalt, concrete and other street soccer type environments.
But this product does have its limitations…
Since the Adidas Nemeziz has a lace-less design, you're likely to face issues with agility and traction control. Our research shows that the upper mid-cut design of the shoe stretches very easily, which might lead to discomfort in the heel and a feeling that the shoe is about to come off.
Moreover, the foam sole of these shoes doesn't come with a rubber lining in the mid-portion under the foot, so chances are it might tear away if you're constantly playing on hard surfaces. The flat rubber traction patterns on the heel and forefoot areas are not quite efficient on dusty indoor courts.
A modern-style indoor shoe, the Nemeziz comes in a black-and-white color with "360 AGILITY BANDAGE" branded on the medial side of the sole. The cool design makes it a good option for casual wear too.
Features:
Synthetic
Boost™ underfoot cushioning
Lace-less 360 Agility Bandage System
Rubber outsole
Fully removable perforated insoles