This next soccer ball is truly one of a kind! The Adidas miCoach Smart Soccer Ball uses a training tool application coupled with your Bluetooth device to optimize your training time and hone your skills. It is the most expensive of all the options here, but it also offers the most in technology and training. This is a top contender for best soccer ball, just for the technology portions alone!
Design: 
This Adidas soccer ball is a 32-panel, thermally bonded ball. I did lots of research in search of more specific information but even the Adidas website doesn't specify which material is used in construction. It is constructed with a sensor in the center and a rechargeable lithium-ion battery.
This is a regulation size 5 ball designed to help you learn how to play like the professionals. The ball is shipped deflated and must be both charged and inflated in order to play.
Durability: 
Thermal-bonding is some of the best construction you can get in the soccer ball world. Even though there are technical aspects to this ball, Adidas didn't skimp on the construction. I really like how durable this smart ball is!
Technology and Training: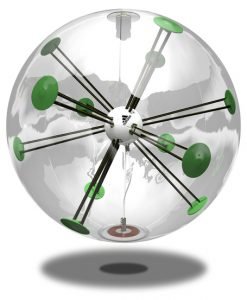 This is where the Adidas miCoach soccer ball really shines:
This ball is designed to record strike points, speed, spin, and trajectory when used with the training tool. This makes it so much easier to track your progress and find your weak spots during training! The app keeps track of your stats for you to review and compare as you train. Users relate this as a favorite feature because it gives them the opportunity to track their training progress more efficiently.
The ball is compatible with Bluetooth smart devices from Apple, Android, and Windows. I really like that it's available across all of these platforms since I have seen a lot of products that restrict availability just to iOS or Android users. This way is much more user friendly and versatile!
The ball comes with everything you need to get started included the AC power plug for charging.
NOTE: if you are using the ball in Europe you will need to purchase a plug adapter as it does not come with the product.
One full charge lasts approximately 2,000 kicks or one week on standby mode. The best part is a full charge only takes one hour!
Misc: 
Some additional information worth noting with this Adidas smart soccer ball is that you cannot use the sensor features for kicks once the ball is in motion. Users report you cannot use it for tracking stats associated with, for example, a drop kick. The ball must be sitting still on the ground before being kicked if you wish to track the statistics.