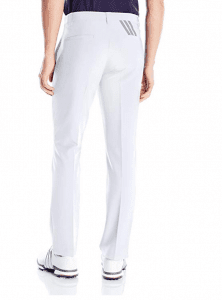 As one of the best-known brands out there, Adidas requires no introduction. They've been making high-quality gear for almost all types of sports and golf is one of them, too. Let's see how these golf pants fare when it comes to functionality and comfort.
These pants are mostly made from polyester, with a touch of elastane. Elastane is the one that gives them a flexible feel. They're resistant to sweat and water, and we've found that micromesh pockets are responsible for improved breathability. Adidas Ultimate 3-Stripe golf pants are, according to our research, one of the most comfortable pants that provide full flexibility while you play golf.
However:
It's worth noting that golf pants are stretchier and tighter than regular pants, so make sure you check what size you really need. This is especially important with these pants since they run a bit slim. Some report that they also shrink a bit after a couple of washes.
Features
Made from polyester and elastane
Can be machine-washed
Feature Adidas logo
Give full range of mobility
Waistband included