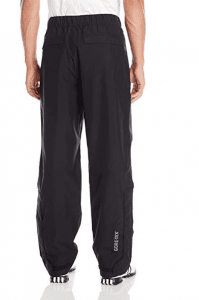 If you're looking for a bit bigger pair of golf pants, you're in luck. Adidas makes high-quality rain pants that are more than suitable for activities such as golf. And they run large so you won't have trouble finding the right size.
This model is one of the best you can find if you need protection against water and bad weather conditions in general. It's made entirely from polyester, but it has two layers to add to its resistance to water. Climaproof Gore-Tex technology makes sure you always stay warm and dry, regardless of where you end up playing golf.
Consider this, too:
While trying them out, we saw that the leg cuffs on these pants are adjustable and that the waistband is elastic. All this results in improved flexibility for anyone playing golf in them. There are some downsides to wearing these pants as well. They're a bit too long and look baggy when worn, which is mostly because they run large, but that could just as well be an advantage to you.
Features
Made entirely from polyester
2 layers of fabric
Climaproof Gore-Tex technology
Mesh lining
Elastic waistband
Adjustable leg cuffs