While magnetic dart boards are targeted at kids and home play, the ActionDart Soft Tip Darts and Board set is another great alternative for those looking for the step up from magnetic darts action.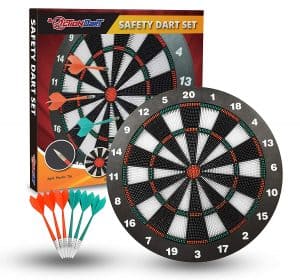 Branded as a safety dart set, this kit makes for a great addition for kids or say the office. The board features raised bumps, creating tiny holes for the darts to affix themselves to. The soft tipped darts enter these and sit very well on the board.
The darts aren't like most soft-tipped darts, as they have thicker tips for safety. It's easy to install and put it, it comes with a metal support bracket to easily place on a table top. It also comes with a reinforced hole at the top, allowing you to easily hang it on a hook or nail.
The darts also do not make any dents on the walls on impact if used as they should be. The segments are divided by the colors of the bumps and surprisingly make for a very easy to look at the board. The numbers are well marked and easy to see and read.
There is the risk of bounce outs, with plastic dividers, and a weak throw may lower the board's ability to hold the dart, but all in all this board makes for a great casual board for home, office, or kids room.
Specifications
5 x 16.1 x 1.2 inches
8 pounds
Soft tip dart board
Safety darts with thick soft tips
Metal support and nail hole for easy install