Though the clicking of a traditional torque wrench is familiar, the beep of the digital or electric torque wrenches is just as effective. The ACDelco ARM601-4 1/2" Digital Torque Wrench (4-99 ft-lbs) rates easily as one of the best electric torque wrench for many reasons.
Here's why…
Design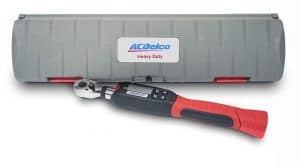 Bold in design, it features four measurement scales, three settings, and a brightly colored, no slip grip handle. Guaranteeing the ultimate in precision, this wrench uses its LED flashing light with buzzer to indicate your desired torque setting. It can provide from four to 99 foot pounds of torque and weighs a meager 1.4 pounds!
Equipped with a quick release as well as a reversible ratchet, it's the ideal tool for efficiency when working on vehicles and other tasks.
Materials
Made of durable steel and plastic, it's a battery powered model that requires three AAA batteries. Yet it remains lightweight and easy to handle. The LCD display will operate in in-lb., N-m, kg-cm measurements to help you get the job done as accurately as possible.
Accuracy
This unit operates in both directions and has the standard functions that include torque settings, measurements, and modes. It doesn't have any specific data relating to its accuracy, however.
Warranty
All ACDelco tools are inspected for accuracy. All of their products are backed by a full, one-year warranty.
Extras
Includes carrying/storage case.