The materials used in this baitcaster are unparalleled--from the stainless steel gear construction to the titanium-coated line guide. This is a highly durable product.
It also functions flawlessly.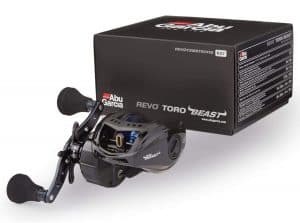 There's a lot of tech keeping the product at peak performance.
The power stack carbon matrix drag system proved to be wildly smooth in tests without sacrificing that crucial range of power.
The braking system also allows for a huge range of variability via the casters InfiniMax technology. This system used a two-part build that incorporates both magnetic and centrifugal brakes.
Lastly, the X-Craftic alloy frame and Duragear heavy duty gear design allow this baitcaster to have outstanding durability while maintaining a lightweight.
You can increase that durability with a product such as this one, used during transportation and storage.
I know, I know. You want to hear about the gear ratios.
This baitcaster, which you should consider more of a baitcaster series, comes in eight models. These models are split between 4.9:1 and 6.2:1 gear ratios.
We liked this relatively wide difference in ratio options since it allows different models to function with very different baits without changing the rest of the feel too much from model to model. For this reason, this is a great product to buy two of, since you won't need to get familiar with multiple baitcaster styles.
Some of these models can handle 210 yards of 14 pound tested line, and some can take up to 250.
All models have a 25-pound drag pressure. We would like to have seen a 30-pound option.
This product has a one-year limited warranty on material and craftsmanship.
Features
7 stainless steel bearings
Patented carbon matrix drag system
Active response drag mechanism
InfiniMax braking system
Extra Large knobs
Includes two handles