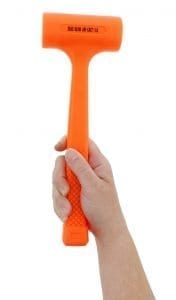 Our pick for the best dead blow hammer comes from a company called ABN. They may not have the name recognition of some of the brands on our list, but this mallet delivers accurate strikes at an affordable price.
ABN stands for Auto Body Now, so they definitely know a thing about dents and rubber hammers. This dead blow hammer doesn't have a cutting-edge design, and it isn't filled with exotic materials. Simple and effective are the first two words to come to mind with this one although you won't be disappointed by its performance.
This hammer is non-marring and won't set off any sparks with a thick rubber coating. It's quiet due to the noise dampening design and durable as its unicast. The handle is covered in the same rubber but serrated so you can get a good grip. To color speaks for itself – you definitely won't lose this hammer in the shop.
If you like the design, you'll get a choice with this one with a set or individual hammers that range from 1 to 4 pounds each. Regardless of which size you choose, the hammers come with a 1-year warranty against defects in materials and workmanship.
Features
Non-marring soft face
Serrated grip
Unicast design
1-year warranty