When you need full coverage from a tower fan, oscillation is the only way to go. If you want to ensure airflow reaches every corner of the room you're trying to cool, we have just the thing for you.
It's the Ozeri Micro-Blade Tower Fan which comes with 360-degree oscillation.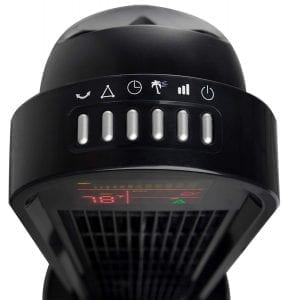 Finding a good fan with some pop is just half the battle, especially if you have a larger room that needs plenty of coverage.
Well, the Ozeri 360 lives up to its namesake as it can swivel in a circle while hitting several key angles along with way. 360-degrees is an obvious option although you can choose from 60, 90, and 120-degrees as well.
At 38-inches, the 360 is a tall tower fan, but one that won't eat up too much space as the base is only around 6-inches in diameter. It weighs 9 pounds and is fairly sturdy given its polycarbonate housing.
It has a flat front with a large multicolored LED display and a series of vents on the front that house micro-blades.
About That Display…
One of the first things you'll notice with this tower fan is the massive colorful display. While great in the daytime, it can obviously be a hindrance at night if it's in your bedroom.
You can dim the light from the remote control although you can't completely kill it as you'll see from this user video.
The readout gives you the scoop on the current temperature along with levels for various settings. There is a row of tactical buttons on the top as well.
Dimming is not included with the onboard controls, so be sure to stow that remote in the slot on the back when not in use.
Technical specifications were hard to come by for the Ozeri 360 Tower Fan, although the online user manual shed a bit of light on things.
We couldn't find an accurate CMF rating although it's quiet with three airflow patterns.
There are three-speed settings and an 8-hour timer that lets you set things up in 30-minute increments.
This tower fan has all the usual bells and whistles and is quite capable when it comes to producing air.
The 360-degree rotation is an obvious perk, and we like the large digital display although we wish it could be completely muted.
Users felt the Ozeri 360 was extremely easy to use and setup considering you only need three screws for the base. It's only available in Black and comes with a 1-year factory warranty.
Features
360-degree circulation
Extended range remote
Three preprogrammed airflow patterns
8-hour timer