This conversion kit comes with a fancy metallic briefcase, the type you see in the movies and looks like it contains some serious stuff. Like many HID kits, the Kensun 55W HID Xenon Conversion kit comes with the ballasts, which are 100% water, weather, and shockproof.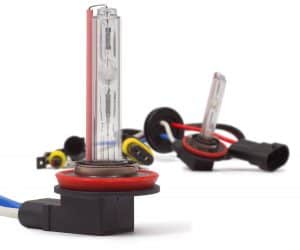 The kit also comes with mounting brackets, and of course, the two HID Xenon bulbs. When purchasing, there is a wide variety of bulb fitting sizes available.
Boasting 55-watt ballasts and bulbs, this HID Kit is certainly more powerful than most conventional stock HIDs and provides a strong, more intense beam. This power along with the shock-proof construction, weatherproof ballasts, and bulbs create a very durable and long-lasting product.
Assembly is pretty simple as well. With ballast mountings, and all items pre-wired, the kit is a plug and play option making it an easy install.
Most users report an easy to install process for this HID Kit. However, on more complicated car setups, it can be a bit tricker. The lack of a relay harness or capacitors does drawback the bright lighting.
Another small drawback is that the bulbs are hard-fixed into their base, making it harder to replace the bulb should you require a new one.
Inevitably, there are some cars where even the easiest of kits are impossible to install. Kensun's customer service is rated as some of the best out of all our HID kits, making it easy and simple to get replacement parts, service advice, and install support.
Specification Sheet
Large range of different fitting sizes
Smart Aluminium Carry-Case
Mounting Brackets for Ballast
55 watts
Wide variety of other temperatures/colors