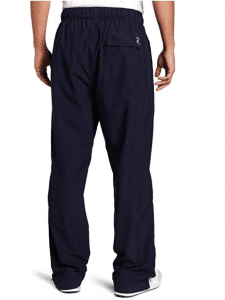 Zero Restriction is a brand that makes high-quality rain pants at very affordable prices. Although they're not technically golf pants, we've found them to be more than appropriate for playing this sport. Let's check out all the features that made us come to that conclusion.
Made from polyester, these pants are very successful at giving protection against water. The fabric is so lightweight you can wear them over your regular pants without losing mobility and flexibility. But there's another advantage to this – we've found that these pants are really very easy to pack.
Here's where it gets good:
The pockets are spacious and even have a zippered pass-through, which is a favorite feature among buyers, at least according to our research. You can also use their leg zippers when you need to put on or take off your pants without kicking off your shoes as well.
Apart from the fact that these pants only come in two different shades, we haven't managed to find more than one downside. It seems that some customers have had to shorten their length a bit, although it wasn't a big issue to either of them.
Features
Made from polyester
Multiple pockets
Zippered pass-through on front pockets
Leg zippers included